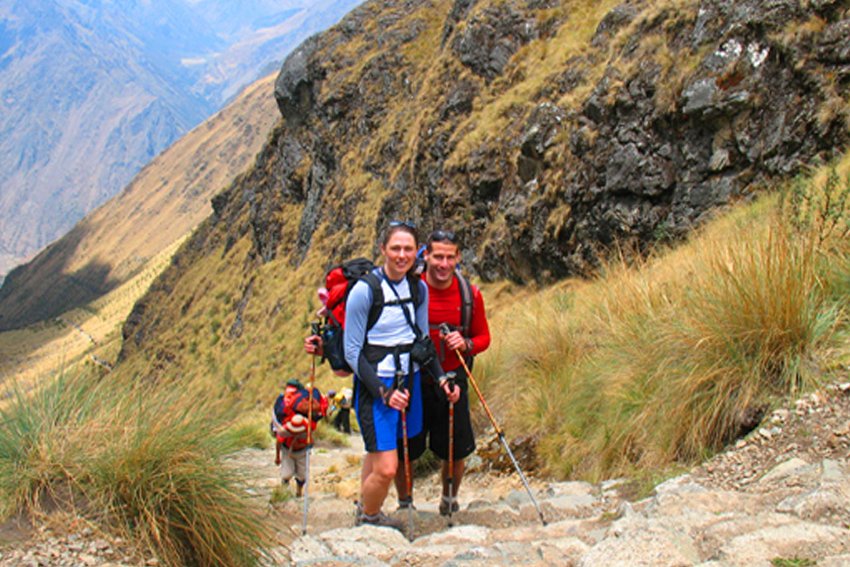 The Journey vs. The Destination
Looking out over the gorgeous Urubamba Valley, I thought about that famous quote by Ralph Waldo Emerson: "Life is a journey, not a destination." Replace "life" with "the Inca Trail", and you have an idea of what I was reflecting on in this photograph below, taken at some Inca ruins along the famous Inca Trail.

Like many people who start dreaming of their Inca Trail trek, for me, Machu Picchu loomed at the end like a beacon. I assumed that was the main point of the journey, and that the lovely scenery encountered along the way would be just an extra perk. Machu Picchu had been top on my list of places to see since I first saw the picture in my text book in grade school. I had long wanted to stand at that picture perfect spot, with the majestic Machu Picchu filling the backdrop, but I never gave much thought to how I would get there or what else I might see.
I convinced my husband that we didn't need another beach vacation and to instead buy a new pair of hiking boots to prepare for a trek in the Andes. Although we don't do much camping, or a whole lot of hiking for that matter, we enjoy the outdoors and really wanted to do the trek instead of the train. It sounded like a fun, athletic challenge and a unique way to see the area. I read extensively on Machu Picchu, and some specifics on the hike itself, and then waited impatiently for our time to depart.
We hopped off the bus in Piscacucho and got our first taste of the beauty to come. As we crossed the bridge and looked down the valley, we could see the Inca trail go off into the distance, with a dramatic view of the river and the towering mountains. It was breathtaking from the start.
During our four days of hiking, we encountered one phenomenal view after another. It was one of those trips where you just can't stop taking pictures, and you hope your memory card holds up. The trail winds its way through the mountains and they tower grandly in every direction. I could not recall the last time I had been completely unplugged from the modern world for such a length of time, and it felt so peaceful to be surrounded by all that natural, majestic beauty.
We met several interesting people along the way, but we especially bonded with those in our trekking group. We sometimes chatted as we went, sharing observations or other travel stories, and sometimes we simply climbed steps in companionable silence. We had so grown to enjoy each other's company, that once we reached Machu Picchu and had the space to split up, we found ourselves wandering those ruins together as well.
This sunrise view was what greeted us as we crawled out of our tents one morning on the trail.

The amazing feats of engineering the Incas left behind were constantly visible. I knew that we would view additional ruins along the way, but I didn't realize how extensive and beautiful they would be. Aqueducts ran by, still fully functional. Seemingly endless staircases of stone were still in use. There were spots where the drop down the side of mountain was so sheer, yet the path was supported by intricate walls. I found myself constantly thinking, "How did they do that!?"

On the final day of our trek, we reached Machu Picchu just after the sun had risen. It was, of course, beautiful and amazing as well, but I cannot call it my favorite part of the trip. The journey was just as remarkable as the destination, and I think the destination was even enhanced by all that we saw and experienced on the way there. Walking quietly along that trail, far from any signs of modern day life, lent a feeling of timelessness. There was something almost magical about approaching the mysterious and magnificent Machu Picchu by the same route that the Incas once took centuries before.