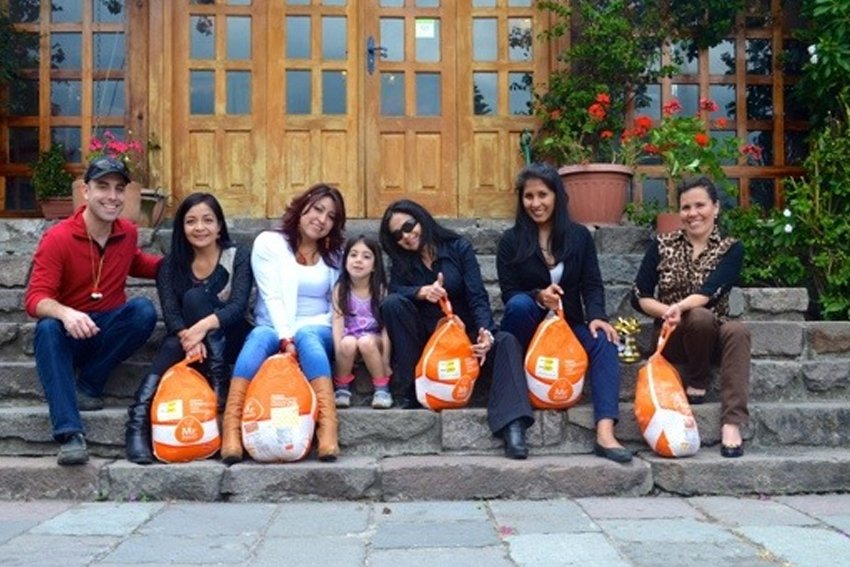 Turkeys for Andean Discovery Team Quito
For decades, companies in Ecuador have recognized the hard work of their employees by giving them turkeys, which they eat on Christmas Eve with their families. This holiday season I had the wonderful privilege of continuing this long-standing Ecuadorian tradition; although, we did opt for store bought turkeys instead of live turkeys, as the tradition was originally carried out. We didn't want our office to be filled with feathers and noisy gobbling sounds as we talk on the phone with our guests!
In preparation, I went to the supermarket to pick out the finest, plumpest Ecuadorian turkeys that I could find. Luckily, the stock clerk stepped in to help. He insisted that Mr. Pavo was by far the best brand of turkey that money could buy, so I took his advice.
A few days later, the local Andean Discovery team members gathered together for a holiday lunch in the highlands of Ecuador. There we enjoyed a special meal, reflected on all of our adventures this year, and exchanged stories and presents.
Of course, we couldn't leave the turkeys out of this wonderful reunion. At the end of the meal, the team had a good laugh when they saw the packaged birds being hauled out from the restaurant's kitchen.
I was honored to offer this particular gift because I know that it will be part of a special Christmas Eve celebration, which is perhaps the most important Ecuadorian holiday.
On Christmas Eve, homes across the country are filled with friends and family, often spanning three or four generations, who sing Christmas carols and prepare the turkey for a midnight dinner. Just before midnight, the families sit down around a nativity scene and place baby Jesus in the middle. This act signifies that they are now ready for the special Christmas dinner, which includes a large turkey and an incredible amount of other traditional foods.
This tradition takes place all over Ecuador, from big cities to small communities. It is a special time for families and friends to enjoy each other's company, to share smiles and laughter, and to reflect on happy moments from throughout the year.