Our intimate understanding of this region, developed over years of living, traveling, and exploring in South America has inspired us and shaped our lives. We are passionate about sharing that adventure with others, and in this spirit, we invite you to Experience Our Home as Yours.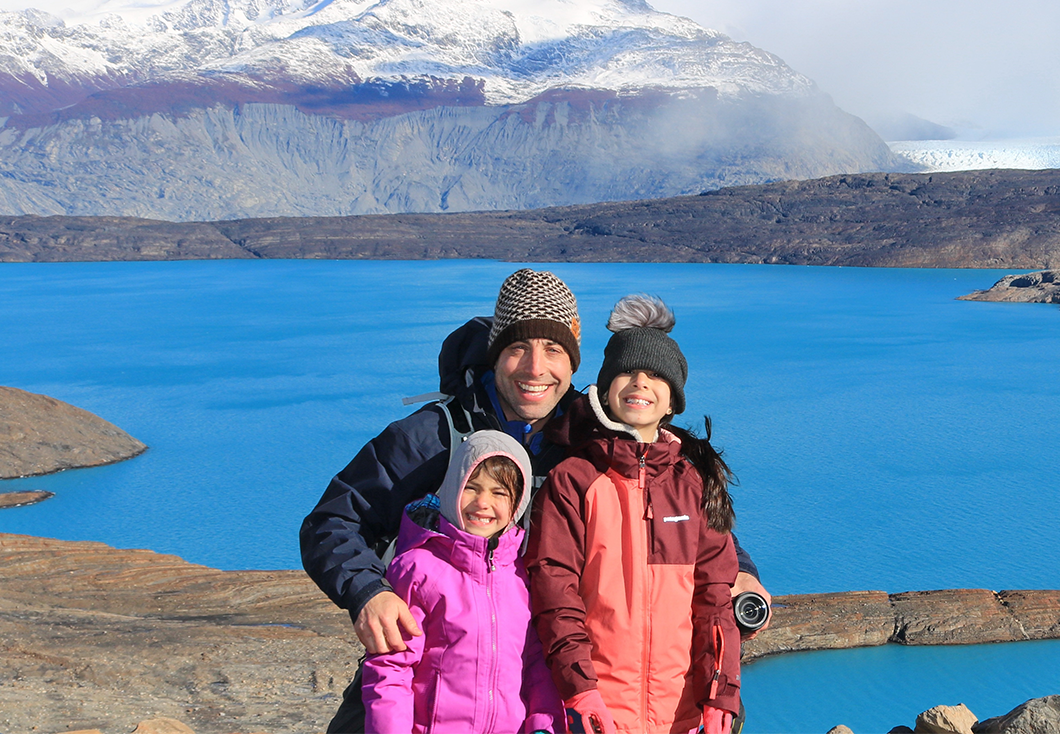 Meet our team:
Damon Corkin
Founder & Travel Director
Damon's passion for South America began over 25 years ago on a high school experiential learning trip that took him to the Amazon rainforest and Andean highlands of Ecuador. After attending CU Boulder, where he majored in International Spanish for the Professions, Damon began working for an educational travel company designing language and cultural immersion programs for middle school teachers and students. He then spent three years directing Mount Kilimanjaro expeditions, and reached the summit of Africa's highest peak on two occasions.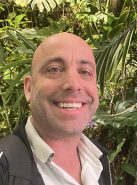 Damon's fascination with Latin American cultures led to extensive travel throughout the Amazon, Galapagos and Andean highlands, where he founded Andean Discovery's South American headquarters. As Founder and Director of Andean Discovery, he is dedicated to developing and delivering seamless, life-enriching travel experiences for families, couples, and organizations while participating with guides, staff, and local communities to ensure sustainable, authentic connections. Damon manages and overseas all daily operations and returns to South America regularly. He lives in Boston with his two daughters, who often accompany him on our South American adventures.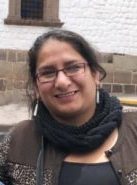 Kelly Villegas, Senior Operations Specialist
Kelly was born and raised in a small village in Peru's Sacred Valley. Exposed to adventure and cultural tourism at an early age, she was inspired to study Tourism Management at the Universidad de San Antonio Abad in Cusco. Her vast knowledge of Peru, together with her meticulous dedication to each and every itinerary, guarantees Andean Discovery guests a wonderful and seamless adventure. When she's not working, Kelly loves to hike in the Andes with her daughter, Camila.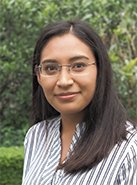 Belén Calahorrano, Operations Specialist
Belén was born and raised in Quito, Ecuador where her passion for travel led her to study Tourism and Environmental Conservation at Universidad Tecnológica Equinoccial, a prominent local university. She began at Andean Discovery with an internship position, and quickly demonstrated that she is a responsible and dynamic professional, who easily adapts to different scenarios and enjoys working as a team to solve any challenge that arises. After contributing in different roles in the company, Belén discovered that she especially enjoys the operations side, meticulously coordinating every aspect of our itineraries, leaving no stone unturned, as she ensures a seamless experience for our travelers. Through her work every day, she likes to envision the nuances of each traveler's itinerary, as she prepares for their arrival. She also enjoys traveling through the central Andes of Ecuador and Amazon basin and assisting with the development of new tour components and logistics. When she is not working on one of our epic adventures, she spends her time cooking a variety of Ecuadorian dishes and hanging out with family and friends. Someday, she would love to visit Bora Bora in French Polynesia, and explore its amazing beaches and coastlines. She considers the Galápagos Islands to be her top Ecuadorian destination, and often recalls her experience snorkeling and swimming with sea lions.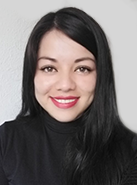 Yessenia Yaguana, Marketing & Product Specialist
Since she was young Yessenia felt inspired by the beauty of mountains and landscapes, exotic wildlife, and the unique gastronomy and cultures of South America. When she immersed herself in pre-columbian art and cultures of South America, she decided to study Graphic Design and understand more deeply the messages that our ancestors portrayed in their own art. She had a life-changing experience on one of her trips to the Amazon rainforest, when she discovered ancient iconography, sculptures and petroglyphs, and participated with indigenous communities and learned about their legends, traditions and customs that have been maintained from ancient times to the present. Yessenia loves photography and capturing natural wonders with her camera to share them with people from around the world.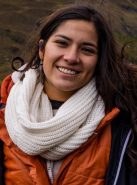 Sheyla Camacho, Operations Assistant
Sheyla was born in Ecuador, the middle of the world, a place full of natural beauty. From a very young age, she traveled her country from north to south and discovered the many hidden wonders of her country and decided to encourage other people to explore and experience these gems by supporting local tourism efforts. This is her main motivation to have studied Tourism Management and Environmental Conservation. She feels that Ecuador is a small place, but filled with so many great treasures that guests will undoubtedly love when one gets to know them. Her favorite hobby is to continue traveling and her next adventures to explore many other international destinations.
Alisson Játiva, Operations Assistant
Born in Quito, Ecuador, Alisson's passion for tourism began at a very young age as she truly appreciated and admired the beauty and history of her home city. She studied Tourism and Business Management at the University of the Americas, and began working in various branches of tourism, developing a unique knowledge base and experiences that inspired her to embark on several adventures both locally and internationally. Alisson believes that tourism is a very positive force for the entire world as it is a great vehicle for opening people up to new ideas and challenges. Her favorite hobbies are adventure travel, and Zumba dance exercise, which includes a fusion of Latin and International music. In the future, her goal is to visit Mexico, Argentina, Chile, Bolivia as well as continue exploring other regions in Ecuador.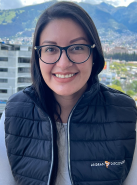 Katerine Ortega, Travel Specialist
Katy was born in Quito, Ecuador. Since she was a child she studied in Quito's  historic center and began her interest in architecture and history. She studied Tourism and Hospitality and for 5 years in the university she had the opportunity to travel through the regions of Ecuador: highlands, coast, part of the Amazon and the Galapagos Islands. Her favorites places in Ecuador are Antisana Volcano, Quilotoa Lagoon and Galapagos Island. She loves to help travelers customize the trip of a lifetime and offering them the opportunity to get to know South America with the most enriching experiences possible. In her free time she enjoys spending time with her family and her dream is to travel around Ecuador with them.
Featured Guides & Naturalists
Elí­as, Trekking & Cultural Guide, Peru

Elias is a veteran of the Inca Trail trek to Machu Picchu and has completed it over 240 times. He was born in Cusco, Peru, and grew up hiking at altitude was second nature. He began working in tourism 30 years ago and found his passion in leading guests on the Inca Trail to Machu Picchu. Elias has become one of the more experienced and well-known guides on the trail. One of his more memorable treks was with Dan Berlin, the first blind man to run the Inca Trail in one day. He loves that guiding allows him to constantly meet and interact with people from around the world. When he is not busy guiding, he spends his time with his wife and two sons.
Isabela, Galapagos Naturalist, Ecuador

Born and raised in the Galapagos Islands, from a family who has lived in the archipelago for many generations, Isabela is a true "Galapagueña." She loves welcoming Andean Discovery guests to the islands and sharing her knowledge about sustainability and protecting the flora and fauna of the Galapagos. Her enthusiasm for the wildlife and natural history of the Galapagos is contagious and she enjoys adapting her guiding style to each groups' specific interests and pace. In addition to guiding, Isabela is pursuing a second degree in Environmental Engineering. In her free time, she enjoys gardening, ballet dancing, pilates, and traveling off-island to destinations around North America and Europe.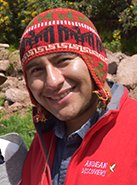 Cesar, Trekking & Cultural Guide, Peru
Cesar realized he wanted to become a trekking and cultural guide when a friend in high school told him about all of the interesting people he would meet from all over the world something that has definitely proven true in the years he has spent guiding since. He is proud to share the richness of Peru with travelers and hopes to make them all ambassadors for the exploration of his country. Cesar's passion for his job makes him feel like it does not even work, but when he is not guiding, he also enjoys spending quality time outdoors with his wife and two young children.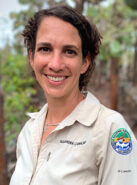 Alejandra, Galapagos Naturalist, Ecuador

Alejandra was born in Medellín, Colombia, and grew up in Quito, Ecuador, but her love of nature and wildlife took her to the Galapagos Islands where she lives full time on Santa Cruz Island. She started out as a volunteer and participated in several educational and conservation projects. She worked her way to be a Galapagos Naturalist Guide, and she is passionate about taking a personal approach to guiding as she shares the unique animals and ecosystems of the Galapagos with Andean Discovery guests. She feels the sea is her element and guiding her in Galapagos has allowed her amazingly close encounters with marine animals. One of her best memories is swimming alone with a school of 40 pilot whales in the open sea. When she's not guiding, Alejandra jokes that she switches to her other full-time job of homeschooling her three children, two dogs, and two cats. She also likes to free dive and she can submerge 60 feet in a single breath!
Antonio, Ecuador Adventure & Cultural Guide

As a young boy, Antonio hiked the 15,000-foot Pichincha volcano and explored the Andean highlands of Ecuador with his father. On these excursions, he learned to appreciate the natural beauty of the Andes and was inspired to study eco-tourism at the CENESTUR Institute in Quito. He graduated as a licensed National Tourism Guide, empowered by an even deeper love for his country, its rich cultures, and unique biodiversity. Although he loves to lead our guests to the Amazon jungle and Galapagos Islands, Antonio especially enjoys guiding in the Andes because these visits revive warm memories of his childhood. When he is not guiding, he relaxes at home and spends time with his wife and two children.
Cristina, Ecuador Adventure & Cultural Guide

Christina was born and raised in Quito, Ecuador, and studied Ecological Tourism. She loves learning new things including culture, people, history, nature, and languages. She loves her job as a guide for Andean Discovery, where she can share her knowledge, kindness, professionalism, and charisma with visitors. She enjoys adding new creative activities on tours such as singing and dancing. Sharing Ecuador's beautiful places with tourist creates a powerful bond and she enjoys creating beautiful memories. In her free time, she enjoys exploring new places, sports, reading, trying new food, singing, and dancing.
Johanna, Ecuador Adventure & Cultural Guide
Johana was born and raised in Quito, Ecuador with an early passion for nature. After earning an undergraduate degree in Ecotourism, she started working as a National Tour guide. In her eleventh year of guiding, she still loves sharing her time, knowledge, and experience with Andean Discovery guests. Her interests are well aligned with her profession. She enjoys trekking and bird watching in the cloud forest, Galapagos, and mountains. She's traveled to four continents and hopes to go on an African safari. Until then, she enjoys learning from visitors around the world.
Wilson, Ecuador Adventure & Cultural Guide
Wilson was born in Loja, Ecuador, and grew up in Cuenca and Quito, studying as a National Tourism Guide. He specializes in adventure, both the high mountain alpine and cycling, and is also certified as a natural and cultural heritage guide. His knowledge of bicycles extends to their mechanics and he maintains bicycles for his family and friends. His favorite place in Ecuador is Baños de Agua Santa, midway between the Andes and the amazon because he can explore the area through many different activities. He loves working in tourism because he can share his favorite places with Andean Discovery Guests, highlighting its natural and cultural diversity, as well as its wonderful inhabitants.