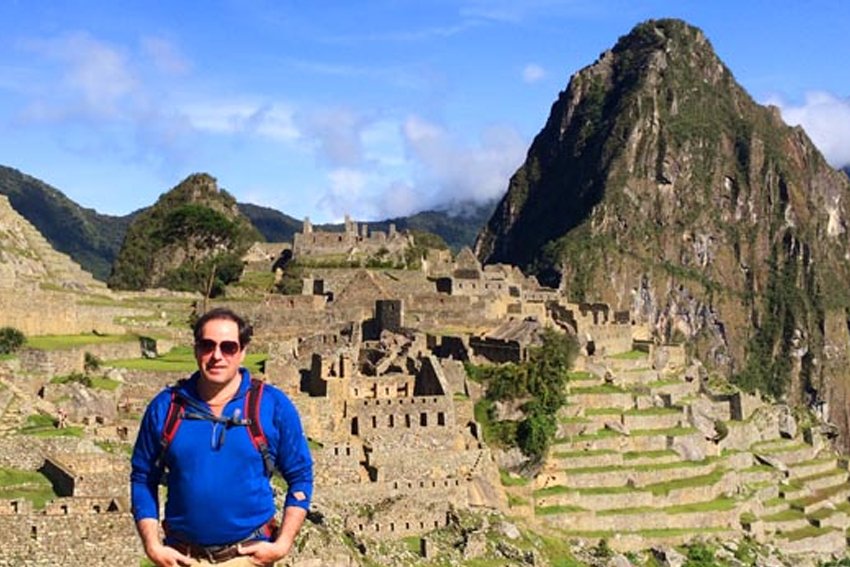 Machu Picchu Pueblo Hotel – John's Experience
To get to Machu Picchu you can take a delightful Peru Rail train through the Sacred Valley from Ollantaytambo to Aguas Calientes, the village just below Machu Picchu. As you travel down the valley you pass the gateway to the Inca Trail — the famous and strenuous 4-day trek to get to Machu Picchu. At first I felt guilty for not taking the Inca Trail journey but then my lovely snack arrived with the spectular scenery out my window and I quickly got over myself. Ahhh, so civilized. Maybe you don't always have to earn your experiences the hard way. Maybe visiting Machu Picchu can be effortless and relaxing.
Upon arrival at Aguas Calientes, we exited the station and I immediately felt disoriented by the steep walkways, markets, buildings and mountains. Our guide escorted us through the maze, across a bridge, and over a mountain stream just a minute or two away from the station. As we left the village, entered the dense forest, and climbed stairs I was surprised to find us entering our hotel, the Machu Picchu Pueblo Hotel.
As we continued to climb higher into the jungle, a soothing and relaxing feeling swept over me. We entered a building and were immediately greeted, invited to sit down on some comfortable couches, and given tea. Whatever disorientation I experienced at the station was now gone and a sense of peace and tranquility set in.
My room was part of a small cluster of rooms in a free standing building. It was lovely with a very relaxing balcony overlooking the jungle. I was more than happy to rest and nap in the oversized chair and just take in the sounds and light of the cloud forest.
The Pueblo Hotel is a large, multi-terraced complex built into the mountainside jungle and offers a variety of interesting things to do on the premises, including an orchid pavillion, a tea and herb plantation, and many other easy diversions that added to my Machu Picchu experience. Our guided tour of the orchid pavilion and tea plantation was surprisingly interesting. I learned some new things about orchids including learning about the two orchids that are exclusive to Aguas Calientes, and I found myself drawn into the scenery. My companions and I thoroughly enjoyed the grounds of the Pueblo Hotel including all the nooks for sitting, the intimate bar area, and the gourmet meals in the spectuclar all-glass dining room. There was even an outdoor sauna with a thatched roof and heated stones by the pool area.
The Pueblo Hotel is an amazing sensory experience, including the jungle light, the smell of eucalyptis, the rush of the Urabamba river down below, the sweet song of birds, and great food. It's a a perfect spot to settle in off the beaten path of Aguas Calientes and to depart for Machu Picchu.