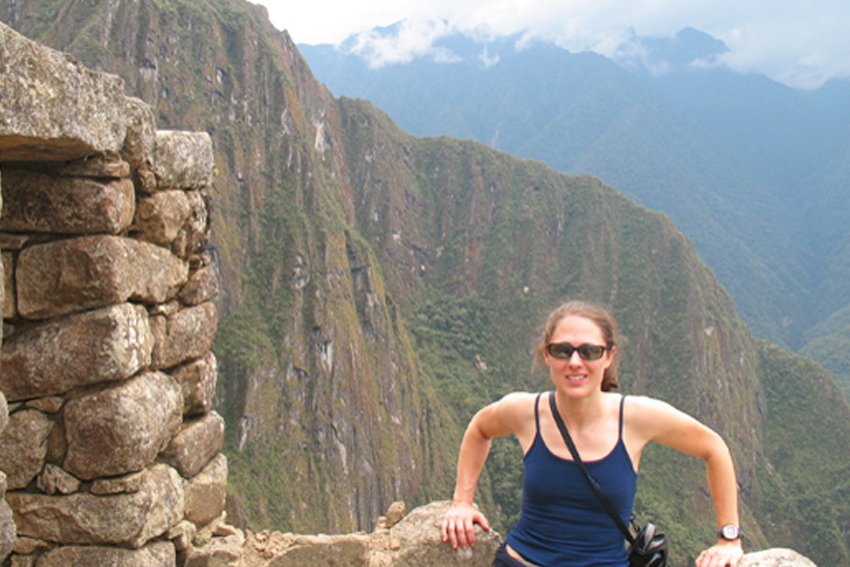 Has travel changed your life?
I recently had the pleasure of joining the Andean Discovery team. During one of my first conversations with owner Damon Corkin, he mentioned that a trip to Ecuador in high school changed the course of his life. I couldn't help but think of the parallel in my own life. Coincidentally, I also took a trip to Ecuador in high school, and to this day I can see the ripple effect that trip had on my own path. In fact, each stop I have made around the globe has left an imprint on me.
Before leaving for that trip, I was most excited to visit the Galapagos Islands. They are so famous that I assumed it would be the highlight of the trip, and the rest… well, the rest would just be a little fun leading up to the main attraction. I could not have been more wrong.
My grandmother and I traveled all over Ecuador and the Galapagos, discovering so many wonderful things at every turn. The Ecuadorian people were so kind and friendly, the food was so exotic and delectable (the soups! I still remember those soups!), and the geography was wildly varied and always breathtaking. During this trip, my love for the Spanish language and for travel was completely solidified. I learned that true adventure is not merely seeing a place but opening oneself up to fully experiencing it; I stepped outside my comfort zone to try strange foods, to speak with the local people, and to practice my Spanish.
We landed in Quito, where the snowcapped mountains make a dramatic backdrop. After a day or two in the city, we took a lengthy bus ride through the mountains to the jungle. The narrow winding road was cut into the side of the mountain, so high up that we sometimes looked down at clouds below, and the views were breathtaking. Once we arrived in Lago Agrio, we hopped into a dugout canoe and traveled down the river, a tributary of the Amazon, to a Secoya village. We stayed in an open air hut, sleeping in hammocks, and hiking through the jungle each day. The guides shared with us numerous stories and facts about the Amazon. We learned from the local indigenous community about the plants they use for healing and all about the surrounding wildlife.
We learned how to listen for the rain coming – you can hear it approach from a distance by the sound it makes on the dense overhead canopy of trees – and how to weave a backpack basket out of leaves and vines. The night sky, far from any light pollution, was blanketed with the stars of two hemispheres.
We returned to Quito by plane to continue the adventure. We went to the world famous Otavalo market for some shopping and to chat with local artisans. They were so friendly and as interested in us as we were in them.
We continued on, spending some days in the mountains, visiting crater lakes such as the beautiful Cuicocha, and also the village of Baños, where you can sit in the hot springs and take an icy shower in a mountain waterfall. We also took the road partway up Chimborazo, the tallest mountain in Ecuador perched at over 20,000 feet above seal level. We stopped on the equator and got a big kick out of standing with one foot in each hemisphere, then on to Riobamba and Guayaquil, where we boarded a flight to the Galapagos to spend a week traveling the islands by boat and sleeping on land. The archipelago was of course stunning.
We swam with the sea lions, watched as dolphins led the way for our boat, and carefully navigated around blue footed boobies protecting their nests. I saw my first shark while snorkeling (he swam peacefully by while I tried to not faint).
Ecuador is such a diverse country, and we had the pleasure of experiencing so much of it. Each portion was incredible in its own way. I feel so lucky to have traveled to so many parts of the country; so lucky that we didn't just fly to the famous Galapagos Islands and skip the rest. I also feel so fortunate to have spent that time with a loved one. Although I didn't know it at the time, my grandmother would be gone less than two years later from a terminal disease. To have those memories with her in such an incredible place is truly priceless.
Why does travel have such a profound impact on people? Perhaps it's from learning about new cultures and seeing the world through a different lens. It could also be that somewhat surreal experience of removing yourself from your daily life and immersing yourself into an amazing adventure. Bonds are often strengthened with our travel companions — partner, family, or friends. It's likely a combination of things. Whatever the reasoning behind it, I've yet to meet a traveler that was not enriched in at least some small way by their journey.
Below is a photo of me back in the Andes, 13 years later, still in love with the region, with travel, with Spanish, and working for a company that incorporates all of that.
How has travel changed your life?