TACTICAL PLANNING It's Not Fun & Games, but It Pays Off Big!
Most travelers know that planning ahead is essential in order to have an enjoyable, carefree trip. Here we outline the important, but "boring", prep that pays off big time once you arrive at your South America destination.  Andean Discovery is here to help you with all the pre-planning logistics.
Passports & Paperwork
Travel insurance. To do it or not to do it? Simple answer is DO IT.
We talk a lot about renewing your passport and that is more important than ever. Gone are the days when you realize only 1-2 months before your international trip that your passport isn't up to date, so you scramble and pay a hefty rush charge, but you could still renew in time. Now, in the COVID era, it isn't so easy to pay those fees and rush the renewal. The offices are backed up, understaffed, and simply cannot guarantee a passport will be ready in less than six weeks. You must take this into consideration when planning the timing of your trip as it relates to everyone's passport status in your party.
For example, Andean Discovery recently worked on with a client needed travel insurance and renewed passports. A family wasn't able to get their passports renewed in time and had to cancel their vacation trip. That said, they were saved due to the travel insurance that they had purchased.
Understand your trip insurance – know it, love it, and thank yourself for purchasing it.
Land Iguana | The Galapagos Islands
Future of Change Fees
Change fees and fare differences, for example, are huge things to consider and understand completely, especially in this new travel climate. In the last year, travelers could get away with a lot when you had to rebook 2020 travel in 2021. The industry needed to get everybody where they were going for the same price the following year. Now, those fare differences will come into play because that is not the case when having to rebook travel arrangements made from this point forward.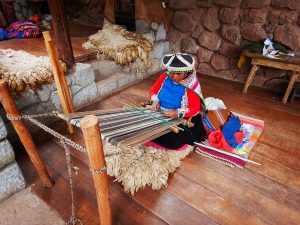 Awanakancha | Peru
Shots & Safety
Keeping up with the COVID vaccination, mask, and face shield protocols is a part-time job in and of itself when traveling to South America. It's extremely different than in the U.S., and each region has its own rules and protocols. Andean Discovery always works with its travel parties to ensure they are prepared and know what to expect, both from a preparedness and safety perspective, while also informing them of the unexpected things culturally that they may encounter in South America.
Malaria inoculations are also important to discuss and plan for when visiting different regions. We can help evaluate those threats and if it's something you should do based on your specific trip.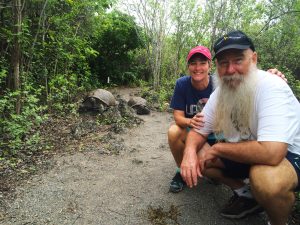 Santa Cruz Island | The Galapagos Islands