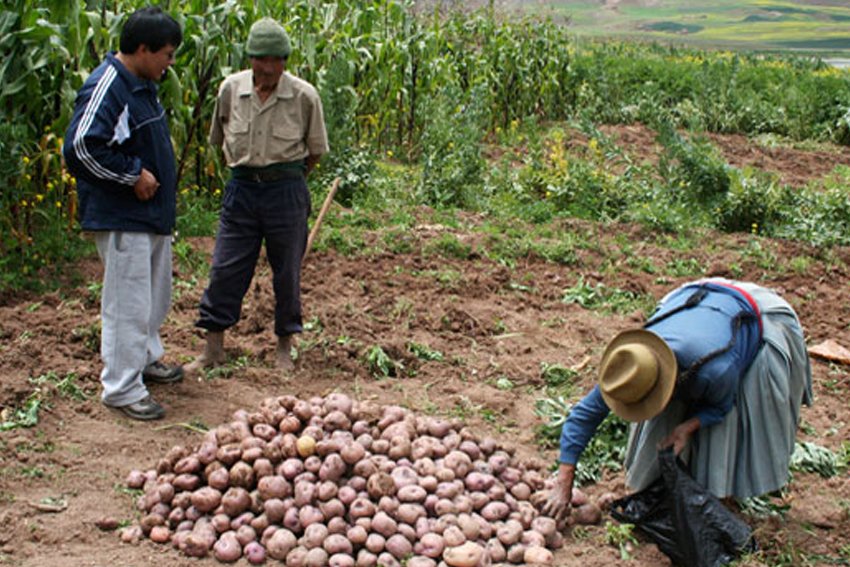 Praise the Potato!
Potatoes — how do you like them?
Mashed, baked, and made into a creamy soup or salad? Or do you like chomping on an endless array of flavored chips?
In South America, especially in Ecuador and Peru, there are over 3,000 different types of potatoes. The starchy root has been a part of the native Peruvian diet since 5,000 B.C.
Just how the plant began and became so prolific in the rather hostile Andean landscape remains a mystery. Wild potatoes, laced with toxins such as solanine, were dug up by the vicuña, a distant relative to the llama. These camelids would then roll the potato around in wet clay, which allowed for safe consumption.
The first Peruvians, and later the Incas, observed this clever technique and proceeded to make a thin gravy of fine clay dust and water to accompany the potatoes. Walk through a market today and you will still see fine clay dust sold. Now it is no longer a safeguard but rather a cultural dining tradition — over the millennia, toxic-free potatoes have been bred.
When the Spanish arrived during the 16th century, they too rooted for the rooted tuber. Eating the herbaceous perennials while onboard their ships protected the explorers from scurvy.
The planting of potatoes spread through Europe. The vegetable became a staple in the diets of peasants and kings alike. France's King Louis XVI was so taken with the potato that he sported its purple flower in his buttonhole.
Colors abound in the vast variety of potatoes available from the golden and buttery tasting "papa amarilla" to the black-skinned and yellow-fleshed "papa mariva". The latter is often used to make the popular dish "papa relleno". Mashed potato is wrapped around a meat mixture and deep fried. The word "papa" meant tuber in the ancient Quechuan language.
Peru-bound travelers can spend an extra day or two in Lima before or after any Andean Discovery adventure, including the Reserva Amazonica Wildlife Lodge and Machu Picchu tour. And with advance notice we will gladly attempt to get you into the International Potato Center.
The most authentic of Peruvian cuisine — "pachamanca" — features a cooking vessel that is lowered into a deep hole lined with steaming hot rocks. Inside the pot, various tubers are combined with meats such as lamb, chicken, or guinea pig. Vegetables are added and the ingredients are seasoned with "chincho," a mild tasting herb with basil, tarragon, and mint and lime flavors. The dish has been enjoyed for thousands of years.
Whether you say "potato" or "potahto", tasting any of Peru's thousands of spuds will prove to be a delicious part of your journey with Andean Discovery.