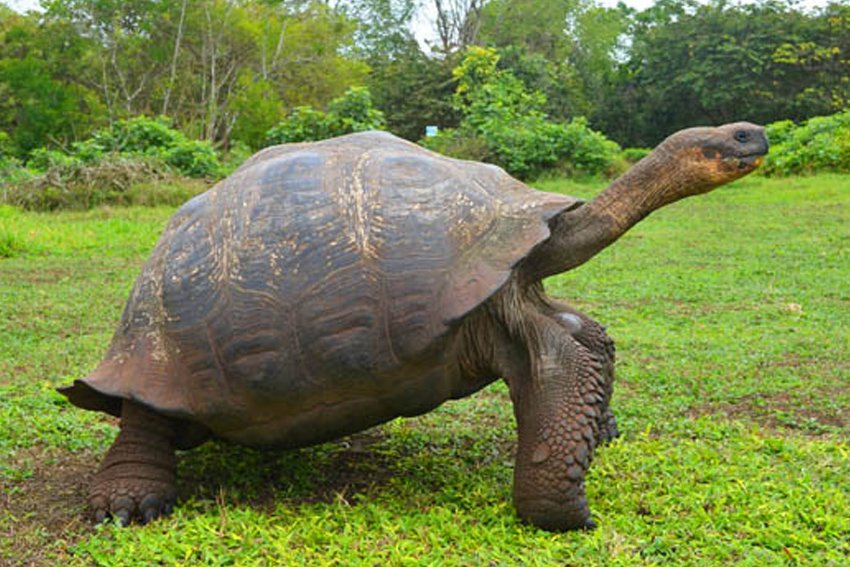 New Species of Galapagos Tortoise Discovered
If you thought evolutionary discoveries ended with Charles Darwin, recent scientific revelations will prove you wrong. Recently, researchers confirmed that an island in the Galapagos hosts not one, but two, genetically distinct species of giant tortoise.
For decades, scientists classified the entire population of giant tortoise on Santa Cruz Island as Chelonoidis porter. Because of the geographical separation between tortoise populations on the east and west side of the island, wildlife biologist Tom Fritts suspected that the inland tortoises may be a separate species but it was impossible to distinguish the two based on appearance alone.
Finally, scientists used genetic testing to reveal that the tortoises on the eastern Cerro Fatal area are a genetically different breeding population from those on the Reserva region in the west and southwest of the island. Testing proved Fritt's hypothesis true since 25 mitochondrial DNA mutations reliably separate the two groups. Two clear clusters of microsatellite loci of nuclear DNA further differentiate species.
While this proved the existence of two distinct species, additional work was required to discover which of these two species was "new". Scientists consulted a "type" specimen from the 1900s to see which species could retain the name of C. porter. Interestingly, the museum specimen was a hybrid: nuclear DNA identified it as a Reserva tortoise while the mitochondrial DNA characterized it as Cerro Fatal. The researchers turned to taxonomy for some additional input. Together, the scientists decided that the larger Reserva population of about 2000 tortoises could remain Chelondoidis porter while the smaller population 250 tortoises on the east side of the island needed a new name. Scientists decided to christen this new group as Cheloinoidis donfaustoi to commemorate a Galapagos National Park ranger who managed the captive breeding program.
When researchers used thousands of samples to construct a family tree of the island's tortoises, they learned that these two species evolved millions of years apart. The western tortoises are part of the oldest giant tortoise lineage on these islands, which evolved about 1.74 million years ago. The Eastern tortoises only evolved about a half million years ago and their closest relatives live on an entirely different island (San Cristobal).
In an age where the population of giant tortoises in the Galapagos have dropped to historic lows because of human exploitation, invasive species and habitat degradation, this new information will help naturalists better manage these populations. Knowledge of the evolutionary history and geographical placement may lead to increased protection of the new species' 250 members. Meanwhile, this whole investigation reveals, that even hundreds of years after Darwin, there's still new discoveries to uncover.