What's Changed Forever and What Hasn't – How COVID-19 will impact travel – then, now, and long term
The nature of travel itself is that it brings people together from different places to participate in amazing experiences. One of the best things about travel is the ability to reconnect with family, friends, and loved ones. That said, how many of the COVID-19 protocols will stick around for the foreseeable future, even as more and more people become vaccinated? Because international travel brings people together from different parts of the world and given that the COVID response and recovery efforts vary so much from country to country, international travelers will see many of those protocols, habits, and behaviors stay in place for a while. It's not all bad though. Let's break it down so you know what to expect when you decide to travel in the future.
Disinfecting and cleaning agents
Many of the hotels Andean Discovery partners with, for example, didn't use alcohol to disinfect their hotel lounge and bar areas until the pandemic. Now everything is thoroughly disinfected everyday with an alcohol-based agent, and this will likely never change. Fine by us.
Bonita Yacht Cruise | The Galapagos Islands
QR code menus
Some (not all) restaurants will likely continue to use QR codes instead of physical menus because patrons are used to seeing the menu from their own phones, and it saves the restaurant a lot of time having to wipe down menus at the end of the night, which they had to do before the pandemic. It is more hygienically friendly and it saves the restaurant time and money.
Temp taking
Because a fever is such a key indicator of someone with COVID-19, we will likely still see guests having their temperatures being taken by the doormen of hotels and/or upon entering restaurants. Most places are currently using digital thermometers, which in South America, they point at your wrist upon entering most commercial entities.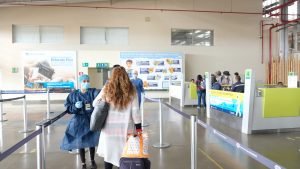 Airport | The Galapagos Islands
Refund policies
While refund policies are not likely to change much, rebooking policies will continue to be friendly for the foreseeable future. Good news, but it shouldn't take away from the importance of thoughtful planning.
Distancing
It will likely remain around for a while. Don't expect to see hotel elevators packed anytime soon. People are happy to wait for the next elevator if they see 2-3 people already in the elevator.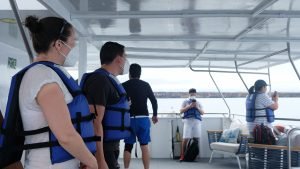 Bonita Yacht Cruise | The Galapagos Islands
Mask wearing in urban locations in developing countries
This is important to keep in mind. You can travel to certain parts of the U.S. now and it's like the pandemic is completely over. Nobody is wearing a mask and it's business as usual. In South America, that is not the case, and people will be wearing masks for the foreseeable future, at least in urban areas.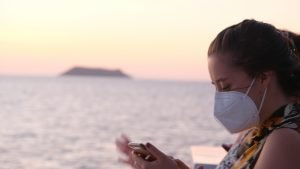 North Seymour Island | The Galapagos Islands
Patience, Patience, Patience
It can be challenging when unexpected things happen or plans change on a trip that has been highly anticipated and carefully, sometimes painstakingly, planned. No doubt about that. However, it seems that people have become more resilient to hiccups in their itineraries and travel plans. Generally speaking, people have become more tolerant of small changes and things not going 100 percent as planned as long as the overall experience is similar to what they had envisioned. After all, they still get to travel! Fortunately, Andean Discovery is able to anticipate these unforeseen changes and adapt the itineraries effectively with minimal impact on the overall experience.