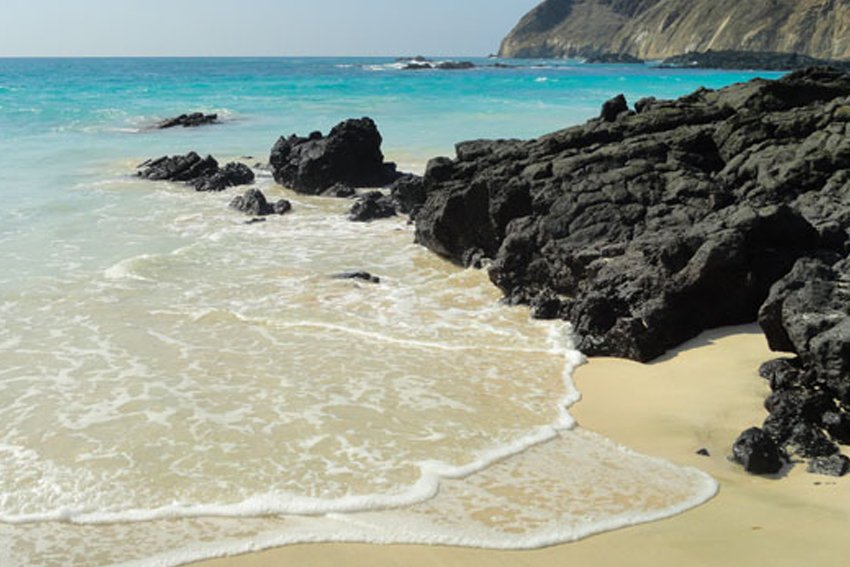 Maria's Andean Adventure-Day 8 & 9: Pitt Point & Cerro Brujo
Pitt Point-February 3rd
The sun was very strong today, especially during our morning excursion today to Pitt Point on San Cristobal Island.  This part of the island didn't have as much of a beach landscape as our previous visit sites, but instead contained many high rocky cliffs.  Our smaller group (the Albatross group was able to get a group picture in here before taking a pretty lengthy hike on a rocky path.
We were able to get a really great view of some red-footed boobies here, including one that was sitting on its egg in a nest.  Our guide pointed out that the blue-footed boobies make their nests on the ground, while red-footed boobies nest in shrubs or bushes.
The water was a little choppy once again today, with huge waves.  Because of this, the snorkeling activity that was originally planned for today had to be cancelled, but instead our guides suggested swimming.  The water in the Galapagos was very warm-definitely not what I was used to from swimming in the northern Atlantic!  It was extremely refreshing to go for a swim after the long hike in the hot sun, and some sea lions even started to swim next to our group.
Onboard, we had a briefing about the check-out process for our last day, and after lunch there was an ice cream party in the bar area, with coconut, blackberry, and mango ice cream flavors (also very refreshing!)
We had the option to attend another lecture, this one about the human history of the Galapagos, and had some time to relax before our afternoon excursion.
Cerro Brujo
We visited Cerro Brujo, or "Wizard's Hill," a beautiful white sand beach.  The sand was so soft (and not hot) that it was easy to walk barefoot on the beach.  I took a walk and ran into some sea lions, iguanas, crabs, and pelicans along the way.  Here, the water had finally calmed down, so we were able to do some snorkeling from the beach.
Tonight was our final dinner onboard the Legend, and we also had a farewell cocktail before the briefing.
February 4th
This morning, we all packed up our luggage before disembarking on San Cristobal Island.  Here we visited the Cerro Colorado Tortoise Reserve, where we were finally able to see the famous Galapagos tortoises.  "Galapagos" actually means tortoise, so the namesake of these islands really comes from these animals.
It was a hot and very humid day, so most of the tortoises were congregated around a pool to keep cool.  Some were moving around the path, and it was very cool to watch them crawl by.  If the tortoises retreated into their shells, they would draw in their heads with a kind of exhaling hissing sound.
The rest of our time was spent exploring the port town of Baquerizo Moreno before our bus took us to the San Cristobal airport for our flights back to mainland Ecuador.
Back in Quito, I met up with Antonio again for a dinner at Rincon de Puembo before heading back to the airport for the long flights home.