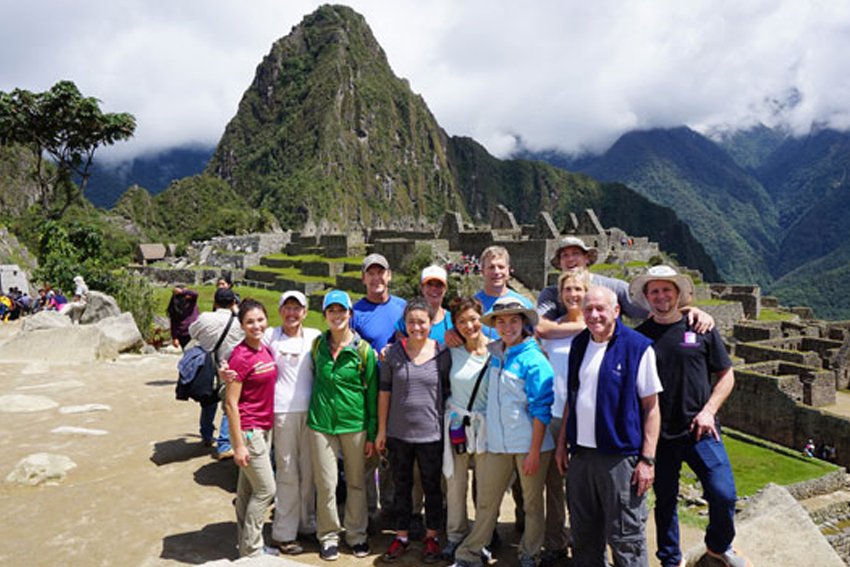 Philipp Family Adventure: Peru, Ecuador and the Galapagos
The Philipp family selected Andean Discovery to organize an excursion to Peru, Ecuador, and the Galapagos for their multi-generational group of 13 people.
Our Trip to Peru & Galapagos
Oh goodness, where to start? Our entire family loved Peru and touring the breathtaking countryside of this region!!!! We felt we were living our travels from an incredible adventure novel in a place where time stopped 50 years ago, perhaps longer.
 Experiencing the ruins along each leg of our journey in Peru was awe inspiring. Each site of ruins we visited were unique; rich with history and mystery over the remarkable feats of stone architecture. Visiting Machu Picchu was a highlight for us. We relished the train ride to Aguas Calientes, passing by expansive landscapes of the Andes mountains, through lush forests and experiencing the roaring Urubamba River below the tracks. Exploring Machu Picchu and climbing to the top of Wayna Picchu was beyond spectacular. The climb to the peak a wee bit scary, but exhilarating! We wondered, "What were the Incas thinking when they built this trail, how much effort did this take, and how on earth did they do it? What was the purpose? Was it perhaps purely for enjoyment of the view, since we were impressed beyond belief? We doubt it . . . all questions are great mysteries to ponder."
Our guide in Peru, Manuel, was incredible. He was very knowledgeable about all the sites, and orchestrated the itinerary seamlessly, and with amazing patience for a family of 13, aged 15 on up to 84 years old. Andean Discovery was very responsive to each traveler's special needs which allowed everyone great comfort and confidence about the day's adventures; including our thrilling flights zip-lining for miles through the canopy of trees in the cloud forests of Ecuador. My mother of 84 may have enjoyed this part the most. A visit to the Mitad del Mundo Equatorial Museum had us all roaring with laughter while we experimented with gravity 6 feet north and south of the Equator. Plus seeing a real centuries old shrunken head was quite unusual.
Our time spent in Galapagos was just as exciting and adventurous as Chapter 1, "Travels in Peru". The sun was shy on this leg of our trip, yet each day was filled with amazing wildlife experiences and hikes through one-of-a-kind flora. Giant turtles, iguanas, sea lions, penguins, beautiful birds, sharks, multiple fish species, all right before our eyes and inches away!!! But never to touch; which is sacred in order to preserve the precious flora and fauna of The Galapagos. Tortuga Bay should not be missed. An incredible hike through a coastal forest leads you through a doorway to one of the most beautiful, dreamy beaches ever to lay eyes upon. Your eyes will be dazzled by the spectacular white sand dunes and expanses of beach, sparkling, turquoise waters, and not a manmade structure to be seen. Only nature in her finest glory!
 Each traveler learned so much about the history of the land and the culture, thanks to our incredible guides who shared endless stories and information. We were graciously greeted by so many lovely native people along the way, who took great pride in their culture, and their land, and eagerly shared their hospitality.
 Enjoying satisfying and healthy indigenous food on the trip was great fun and a pleasant surprise; from lovely casual spots in various quaint villages, to fine dining experiences in the cities and at some of the resorts. No traveler went hungry! Equally as nice, were our accommodations. Each hotel was carefully selected to meet the needs of our group. We were slightly pampered and enjoyed every moment of it! Thank you to Rio Sagrado — Sacred Valley, Inkaterra Machu Picchu Pueblo Hotel — Machu Picchu, Libertador Hotel — Cusco, and Finch Bay – Galapagos.
We hope that you will have a most memorable and exciting trip with Andean Discovery, who took the utmost care in planning and orchestrating a remarkable trip for our family. Every moment of our Peru — Ecuador trip was a once-in-a-lifetime experience and we feel honored to have been so graciously received by the people and Mother Nature. If you are dreaming of a visit to these beautiful countries, think no further and GO!!!!
 The Philipp Family
More photos from their adventure: