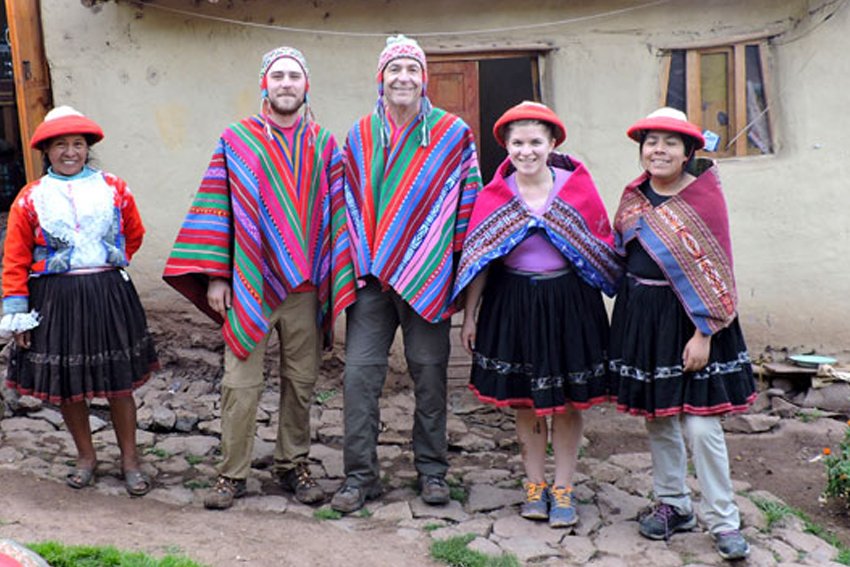 Maria's Andean Adventure-Day 2: Clean Stove Project
Clean Stove Project in the Village of Patabamba
Maria Price is Andean Discovery's Program Manager. Over the next few days she will be travelling to some of our destinations experiencing our tours first-hand. Follow our blog to keep updated on her day to day adventures!
Waking up at the Sol y Luna Lodge and Spa was a fantastic start to the day.  The hotel contains isolated houses or "casitas" for its guests.  These casitas include Andean art on the walls and even an iPod set up with a playlist of traditional Peruvian music, jazz, and Latin twists on classic tunes.
It rained overnight, so stepping outside I immediately caught several fragrances from the surrounding garden.  The clouds were hanging low in the sky, giving a different but equally picturesque perspective on the Andes.  On my way down to breakfast, I passed by the ranch, where several horses were out and about.
The service at this hotel is truly exceptional, and I felt like a VIP the minute I walked into the lobby yesterday evening.  Breakfast offered a wide array of local fruits, as well as breads and cheeses, and eggs made to order.  After eating, our group met up with Celinda, and headed out to Urubamba, where we would be working with members of a mountain village to build stoves.
The drive took us through a winding mountain road, navigated expertly by our driver Wilbert.  After a few hours, we came to the village of Patabamba.  We were greeted by our hosts for the day, Mamerto, Dominga, and Tito.  They sprinkled flower petals on our heads as a sign of welcome, and said a few words in Spanish, that Celinda translated for us.  Celinda and the villagers all spoke Quechua as well as Spanish, so we were able to get a sense of what the language sounded like, even though we didn't know what anyone was saying.
It was interesting listening to the villagers go back and forth between Quechua and Spanish.  My Spanish is quite limited, but it still felt so comfortable to hear something familiar in a Romance language, where I could at least make out some words and get a general sense of the meaning, juxtaposed with something I had zero context for.  I was also surprised at how far my basic Spanish got me.  Celinda was an invaluable help, but I found that when I had a question or comment, I could rehearse what I meant to say in my head, ask it, and be understood.  Questions and directions were fairly easy, but spontaneous conversations were harder.
After introductions, the three of us in the group were put to work right away constructing stoves.  The stoves that we built carried the smoke out of the houses, decreasing health hazards and environmental damage.  Tito showed us the steps of constructing the first stove.  Mostly just mud, straw, and water were needed, with a few metal structures and reinforcements.  Again, this was a time where very basic Spanish proved to be very helpful in communicating (más, agua, and aquí­, were the majority of what was needed, and I also learned the words hicho and barro, for straw and mud, that made up a majority of the directions.).
Once the stoves were built, we all were able to enjoy a meal together.  Mamerto was assisted by other villagers as he cooked food in a stove in the ground (potatoes, lamb, plantains, cheese, chicken…and more potatoes).  This process is known as a Pachamancacelebration, and usually takes place at a birthday, holiday, or other special event.  It pays homage to the Pachamama, or earth mother, and is a way that the Quechua-speaking people stay close to their traditions.
Celinda explained that her culture has a large Catholic influence from the Spanish, but many people still give great value to nature.  She mentioned that the Andean condor represents the heavens, the puma represents the earth, the snake represents the underworld, and that Mother Earth is always very special.  While the food was covered and cooking, Mamerto asked for someone to be the "godmother" and place a cross of flowers on the pile of earth.  Since I was the woman of the visiting group, they asked me to do it, and told me to place it facing the east.
The food from the Pachamaca was hearty and satisfying.  After the meal, our hosts served us fresh Andean mint and sugar with which to make hot tea.  They then gave us traditional garments to wear while Dominga showed us woven products that the women in the village created.  We signed a guestbook, said goodbye, and were soon on our way back down the mountain path.