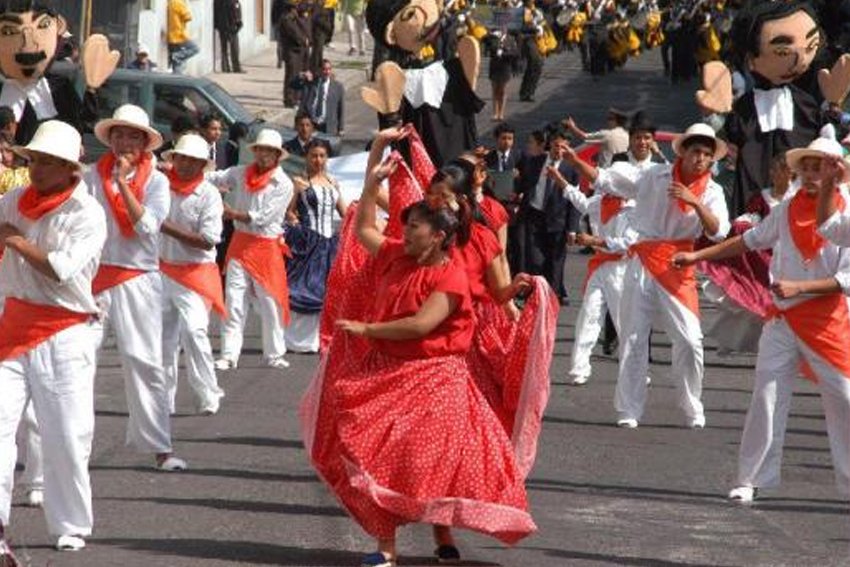 Celebrating Fiestas de Quito
For over 50 years residents of Ecuador's capital have celebrated the founding of their city during a week-long party-Fiestas de Quito. Beginning at the end of November, work in Quito all but ceases as locales take to the streets for hundred of scheduled events-it's mayhem in the best sense. Parades, festivals, operas, traditional dance performances, marching band competitions, and cultural displays highlight the city's diversity.
Festivities commence when the Queen of Quito is crowned and end on December 6, the date in 1534 when the city was established. In between these two days, workers may go to the office and children may go to school, but only to play the highly addictive card game cuarenta. And dancing isn't just relegated to clubs and bars, but to buses too! An old wooden bus turned into an open dance floor with wheels (and often a brass band on top), a chiva is the most fun way to get from point A to point B.
For most of the festival's history, bullfighting was an important part of the celebrations. The city's two bull rings would hold events throughout the week. But opposition to the tradition-which was imported when the Spanish established the city-grew until, in 2011, citizens voted to greatly restrict the bullfights, and today they are virtually non-existent. Other large scale events, including free concerts, are now scheduled instead, and so the festivities remain as large as ever.


Regardless of when you're there, Quito is a city worthy exploring. All of our Ecuador tours include the opportunity to visit the colonial city center, the 15,000 foot volcano that hovers over the city, or the nearby equator line monument.
If you do find yourself in Quito during the Fiestas, head down to the main Plaza de San Francisco, enjoy a canelazo (a hot drink with rum and cinnamon), and dance alongside thousands of your new friends.