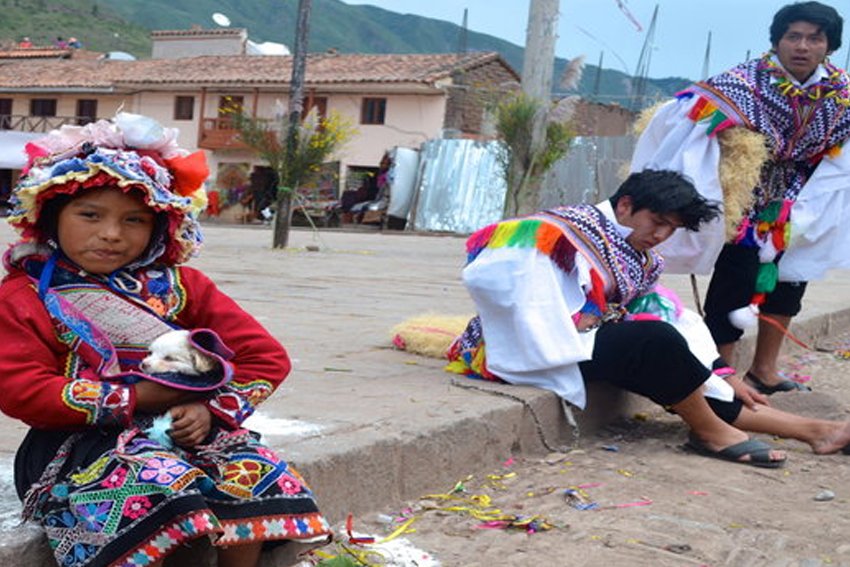 Carnival in Peru: A Walk on the Wild Side
Last Tuesday Pisac, a Peruvian village near the Urubamba River, came alive with Carnival music and dancing as villagers in colorful costumes paraded through the streets. Peruvian culture is a mix of local customs and Spanish-influenced Roman Catholic traditions, and both of these were at play during this celebration in Peru's Sacred Valley.
Like Westerners, Peruvians celebrate Carnival with festive parades that serve as a precursor to a somber season of Lent.  Though the festivities vary by region, typically a king and queen are elected to preside over the events. The queen judges music contests by local bands, while the king rules over street parades complete with masks and colorful costumes.
In one native tradition, a tree called a yunsa is decorated with ribbons and gifts for family and friends. Everyone gathers to dance around the tree.  Then, one by one, couples make a show out of attempting to cut down the tree with an axe.  Each takes a swing till the tree finally falls and everyone rushes claim the gifts.
Perhaps the most unique Peruvian tradition is a water fight that dates back to the 1800's. During this time, entire Peruvian villages would shut down for three days and anyone who ventured out would be doused with water.  Men would walk the streets armed with sealed eggshell "bombs" filled with scented water, while women would wait near open windows ready to dump buckets of water on unsuspecting passersby.
These days Peruvians have upgraded to more 'civilized' water balloons, and their good-natured street fights are a delight to watch.  Those of an adventurous nature may even feel moved to take part. Think of it less like an ancient punishment and more like a Peruvian baptism.